---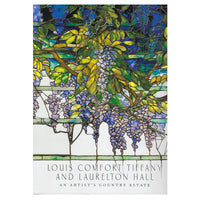 262 pages, 9 x 12 in. 
The Metropolitan Museum of Art, 2006.

This companion catalogue to the Metropolitan Museum of Art's 2006 exhibition—produced in collaboration with the Morse Museum—focuses on Louis Comfort Tiffany's grand Long Island estate, Laurelton Hall. Essays by Alice Cooney Frelinghuysen, Elizabeth Hutchinson, Richard Guy Wilson, and Morse Museum Curator and Collection Manager Jennifer Perry Thalheimer explore every aspect of the home from the stunning interiors to the beautiful surrounding gardens.