---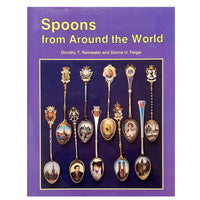 346 pages, 11.5 x 9 in, hardcover.
By Dorothy T. Rainwater and Donna H. Felger
Schiffer Publishing, Ldt., 1992.
Spoons from Around the World, written by two of the foremost authorities on historic silver, identifies thousands of practical and specialized spoons from all parts of the world.  Includes hundreds of photographs with captions, extensive text, and manufacturer information.